In her review article ("Contesting notions of Pakistan", Economic & Political Weekly, November 10, 2012, vol. XLVII, n°45.), S Akbar Zaidi, a political economist based in Karachi, draws a comparative, critical and stimulating analysis of six recent books focusing on Pakistan. These books, of varying genres (journalistic, policy-oriented, academic, literary…) and covering various themes (history, state formation, religion, politics, economy…), offer contrasting views, analysis and interpretations of today's Pakistan.
Here below are the books chosen by S Akbar Zaidi for the review:
Pakistan: A Hard Country by Anatol Lieven (London: Allen Lane), 2011.
"In the past decade Pakistan has become a country of immense importance to its region, the United States, and the world. With almost 200 million people, a 500,000-man army, nuclear weapons, and a large diaspora in Britain and North America, Pakistan is central to the hopes of jihadis and the fears of their enemies. Yet the greatest short-term threat to Pakistan is not Islamist insurgency as such, but the actions of the United States, and the greatest longterm threat is ecological change…." (back cover)
The Future of Pakistan by Stephen P Cohen and Others (New Delhi: Oxford University Press), 2011.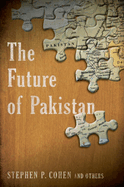 "With each passing day, Pakistan becomes an even more crucial player in world affairs. Home of the world's second-largest Muslim population, epicenter of the global jihad, location of perhaps the planet's most dangerous borderlands, and armed with nuclear weapons, this South Asian nation will go a long way toward determining what the world looks like ten years from now…" (back cover)
Pakistan: Beyond the 'Crisis State' edited by Maleeha Lodhi (Karachi: Oxford University Press), 2011.
"Seen through the lens of the outsider, Pakistan has often been reduced to a caricature. Its diversity and resilience have rarely figured in the single-issue focus of recent literature on the country, be it journalistic or scholarly. This book seeks to present an alternate paradigm and to contribute a deeper understanding of the country's dynamics that can help explain why Pakistan has confounded all the doomsday scenarios…" (back cover)
Secularising Islamists? Jama'at-e-Islami and Jama'at-ud-Da'wa in Urban Pakistan by Humeira Iqtidar (Chicago: The University of Chicago Press), 2011.
"Secularizing Islamists? provides an in-depth analysis of two Islamist parties in Pakistan, the highly influential Jama'at-e-Islami and the more militant Jama'at-ud-Da'wa, widely blamed for the November 2008 terrorist attack in Mumbai, India. Basing her findings on thirteen months of ethnographic work with the two parties in Lahore, Humeira Iqtidar proposes that these Islamists are involuntarily facilitating secularization within Muslim societies, even as they vehemently oppose secularism…" (back cover)
The State of Islam: Culture and Cold War Politics in Pakistan by Saadia Toor (London: Pluto Press), 2011.
 "The State of Islam tells the story of the Pakistani nation-state through the lens of the Cold War, and more recently the War on Terror, in order to shed light on the domestic and international processes behind the rise of militant Islam across the world. Unlike existing scholarship on nationalism, Islam, and the state in Pakistan, which tends to privilege events in a narrowly-defined political realm, The State of Islam is a Gramscian analysis of cultural politics in Pakistan from its origins to the contemporary period…" (back cover)
Muslim Becoming: Aspiration and Skepticism in Pakistan by Naveeda Khan (Durham: Duke University Press), 2012.
"In Muslim Becoming, Naveeda Khan challenges the claim that Pakistan's relation to Islam is fragmented and problematic. Offering a radically different interpretation, Khan contends that Pakistan inherited an aspirational, always-becoming Islam, one with an open future and a tendency toward experimentation. For the individual, this aspirational tendency manifests in a continual striving to be a better Muslim…" (back cover)
---